Choose a category or subcategory
Hydrophilic foam dressings
Askina® Foam Sacrum is a  hydrophilic foam dressing made of a polyurethane foam wound contact surface with high absorption capacity and a vapour permeable, water and bacteria resistant polyurethane film outer layer, which extends beyond the perimeter of the foam to form an adhesive border.
Askina® Foam Sacrum has a triangular shape, well suited for sacral area. It is also suitable for the prevention of skin damages due to incontinence or pressure.
Advantages
Specially adapted for difficult-to-dress areas
Excellent absorption and retention capacity
Balanced adhesive formula: easy application, atraumatic removal
Comfortable outer layer, highly permeable for air and water vapour
Visual control of exudate absorption
Good protection against friction and shear stress
Contraindication
Askina® Foam Sacrum is contraindicated for ulcers resulting from infections, such as tuberculosis, syphilis, deep fungal infections bites or third degree burns.
In case of infections with inflammatory signs (temperature, oedema, redness, pain) contact proper medical authority. Resume the use of Askina® Foam Sacrum when normal healing conditions are present again.
Do not use if package is damaged or open.
Indication
Moderately exuding wounds located on the sacral area
Ordering information:
Askina® Foam Sacrum

Size

Pcs/Pack

Article Number

 

18 cm x 20 cm

14 cm x 16 cm

5
7228205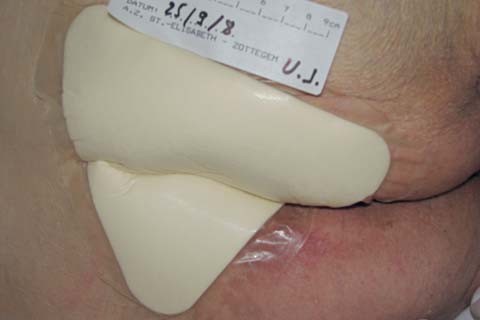 Askina® Foam Sacrum used on the sacrum pressure ulcer