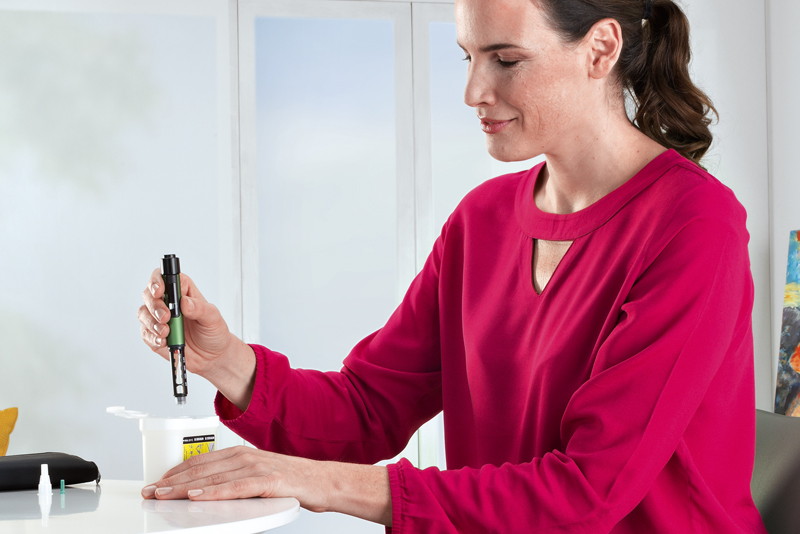 How should I dispose of used needles?
Every time you inject insulin, you need to discard the used needle afterwards. Are you unsure about how to do this without putting you or others at risk? Here are two good options to keep yourself and everybody else out of harm's way.
Use once - dispose of immediately
Needle disposal can be hazardous to you and everybody else. Therefore, it is important to dispose of them straight away after the injection. But an uncapped needle in the trash is a safety hazard.
This danger is not reduced if you put the used needles into bottles or cans. These may break or can be punctured. But there are ways to dispose of needles properly – and protect everyone.
Method 1: Needle disposal with needle container
Put the outer protective container in which the pen needle was initially stored back on the needle. Then unscrew the container from the pen, with the needle inside. Discard it according to local regulations e.g. in trash bin if allowed. These regulations are different everywhere; so make sure to check them.
Method 2: Needle disposal with sharps collector
Using the Omnican® box or the Medibox® puts you on the safe side: They are impact and puncture resistant, and a final locking system prevents access to the used needles.
You just insert the pen with the used needle into the screw-off mechanism of the sharps collector and turn the pen. This recommended method prevents needle stick injuries. Post disposal, the pen cannulas do not pose any risk of injury for anybody else.
Tips
Tips: needle disposal
✔ Never throw an uncapped needle into the garbage.
✔ Use the protective needle container to remove the needle from the pen.
✔ It is best to use a medical sharps collector to dispose of needles safely.
✔ Always check your local regulations for used needle disposal.