Stoma without bag
You want to be active and self-confident, you would love to do hobbies and sports again, be social and maybe have some close-up time with your partner. All of this without being afraid of unpleasant stoma smells, stoma noises or a big stoma bag visible under your clothes. What would you say if there was a way to finally prevent the embarrassed looks of the people around you?
Imagine being able to decide again for yourself when to pass gas. Imagine not having to fear noises and smells in public places. Imagine that instead of a bulky colostomy bag, you just have a small stoma cover with a hidden bag inside. Sounds good to you? Then Be1® stoma cover* is your perfect fit.
What is Be 1®?
Flexible alternative and without visible bag – Be 1® is made for you
Tonight, you want to wear some fancy shoes to finish off your great appearance, tomorrow you will need your sneakers for a long run and the next day you will be perfectly fine with your flip flops when you relax on your couch. You can pick and choose your shoes – and the same is now true for your stoma appliance: Simply switch between your usual colostomy bag and the convenient Be 1®. It's entirely up to you! 
What's behind Be 1®?

Compared to a standard colostomy bag, Be 1® is less noticeable for various reasons:
First of all, it is smaller in size and there is no visible bag. And even more: Nothing is in your way and you regain a bit of your former appearance.
No more noises: Forget about the crackling sound of your bag which has been your companion. Additionally, stoma and bowel noises are also a thing of the past with Be 1®.
With Be 1®, you can control your stoma gases and therefore the odor that comes from your stoma as well. Embarrassing situations among others finally have an end.1)
This is your Be 1®
This is your Be 1®
Compact stoma cover
Be 1® is a small stoma cover with an integrated folded colostomy bag. You can open the device and unfold the bag manually: Either when you feel stool arriving or when you just know it is time. If stool makes its way unnoticed, no problem: Whenever the pressure becomes too high, the bag opens automatically. Be 1® is available in two sizes and has been developed for colostomates with formed or pasty stools.
All-in-one: hygienic appliance and stoma noise muffler
The unique soft foam ring improves hygiene and muffles stoma noises as users confirm that with Be 1® there are no stoma noises1) anymore.
Easy to use two-piece system
Be 1® stoma cover is a two-piece system which fits the Flexima® 3S flat wafer. Flexima® 3S stands for simple, soft and safe. This allows you to safely and simply fix Be 1® to the wafer – starting from the first usage. You will know how to do it instantly since the application is as easy as ABC. So it is worth to try Be 1® even if your stoma is temporary.
Safe appliance
You can feel safe with Be 1®. For one thing this appliance is leak proof. For another, Be 1® incorporates a security system which guarantees the automatic and spontaneous opening of the appliance if intestinal pressure becomes too great. You will always be on the safe side.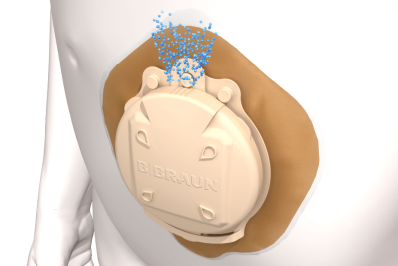 Device to control bad stoma smell
An integrated filter allows a continuous passive degassing to take place while the cap of Be 1® is closed. So you will not have to take care of minor wind – and nobody can smell it either. An additional degassing button gives you the opportunity to actively release gases whenever the need arises. So you can go somewhere secluded and not bother anybody else with the smell.
Tiny folded colostomy bag - great capacity
The integrated bag, once unfolded, has a maximum capacity of 615 or 635 milliliter, depending on the Be 1® size you have chosen. It is available in 55 respectively 65 millimeter diameter.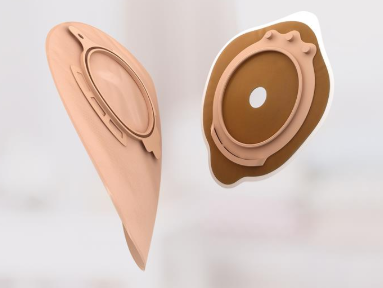 Flexible alternative to a colostomy bag
Combine a simple, soft and safe two-piece system with the advantages of a compact stoma cover. Switch freely between colostomy bag and Be 1® whenever you want, depending on your activities. Both Be 1® and Flexima® 3S colostomy bags fit on the same Flexima® 3S wafer. 
Be 1® stoma cover presentation
Feedback of colostomates using Be 1®
Feedback of colostomates using Be 1®:
Be 1® users sharing their experience