Risk Prevention
in Pediatrics & Neonatology
Avoiding Risks in Pediatrics & Neonatology is Crucial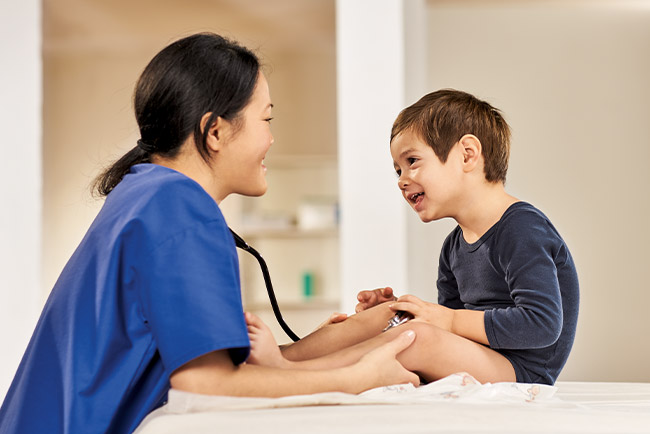 Pediatric patients are a special group in hospital treatment. They have unique needs compared to adult populations. Pediatric patients are not small adults – due to their physiological development, age, and size they require a special level of care and attention. B. Braun offers a dedicated portfolio of both medical devices and drugs for this patient group.
Risk prevention is even more important in pediatrics, since significant risks such as air embolism, overdose or drug incompatibility may be life-threatening for small patients. 
In fact, pediatric patients are more susceptible to errors, especially medication errors,  their physiologic reserve is considerably less than in adults. Read on for more about risks during hospitalization for pediatric patients.
Recognizing Risks in Pediatric and Neonatal Care
Small patients. Huge responsibility. Let's protect pediatric patients… together.
Protecting children is instinctual to us. Parents are even more attuned to this instinct. For pediatric health care professionals, protecting and preventing harm in small patients is not only a daily task but sometimes a real challenge.
Despite increasing awareness of patient safety, patient harm is still common.1
"Errors still affect as many as one-third of all hospitalized children and an unknown number of children in ambulatory settings."2
Risk prevention remains an important concern in pediatrics today. On the following pages, you'll learn more about the most common risks in pediatric and neonatal care and how to prevent them.

Risk Prevention in Pediatrics & Neonatology
Other Risk Factors for Pediatric Patients
Preventing the Risk of Microbial Contamination
Microbial contamination is one of the most dangerous risks for patients in hospitals. There is a broad range of pathogens that can cause contamination and lead to infection. Premature neonates with lower innate immune function and decreased maternal antibodies are particularly at risk.
Microbial contamination was found in a study of repackaged injectable lipid emulsions in neonatal intensive care patients. The pathogens "Klebsiella pneumoniae" and "Candida albicans" were found with particular frequency.4

B. Braun offers products that help reduce the risk of microbial contamination.
Want to know more about the risk of microbial contamination? Read more about the general risk.
Avoiding the Risk of DEHP Exposure
Diethylhexyl phthalate, known as DEHP, is a plasticizer used in PVC plastics and has been linked to adverse effects in critically ill neonates and in pregnant or breastfeeding women. For this reason, its presence in medical products is of concern, since these products are used in therapies for at-risk populations. This has resulted in a number of actions taken at the international, national and regional level, including legislative action, in the health care sector as well as in a number of other industries, such as the toy and food and beverage industries, to end DEHP use. B. Braun offers a broad range of DEHP-free products.
Want to know more about the risk of DEHP exposure? Read more about the general risk.
Want to learn more about risk prevention in pediatrics and neonatology? Ask our experts.

Get in contact
B. Braun Melsungen AG
Carl-Braun-Str. 1
Germany
References
1 Mueller BU, Neuspiel DR, Stucky Fisher ER , COUNCIL ON QUALITY IMPROVEMENT AND PATIENT SAFETY, COMMITTEE ON HOSPITAL CARE. Principles of Pediatric Patient Safety: Reducing Harm Due to Medical Care. Pediatrics 2019;143(2). e20183649.
2 ibid. With reference to Kirkendall ES, Kloppenborg E, Papp J, White D, Frese C, Hacker D et al. Measuring adverse events and levels of harm in pediatric inpatients with the Global Trigger Tool. Pediatrics 2012;130(5).
3 WHO, 2002, Prevention of hospital-acquired infections. A practical guide. 2nd edition.
4 Omran EA, Eisa FF, Bakr WMK. Microbial Contamination of Neonatal Injectable Lipid Emulsions at 12 and 24 Hours' Infusion Time With Evaluation of Infection Control Measures. J Pediatr Pharmacol Ther. 2020;25(1):53-60.