Total Knee Revision
TKR 3.0 is now available on OrthoPilot® Elite
The failure rate of knee revision implants after 10 years is reported to be 22%. There are various reasons for that, but many times the basic cause is to be found in:

Change of the jointline, especially proximalization with resulting Patella baja
Malalignment
Malrotation of the implants
Imbalanced extension and flexion gaps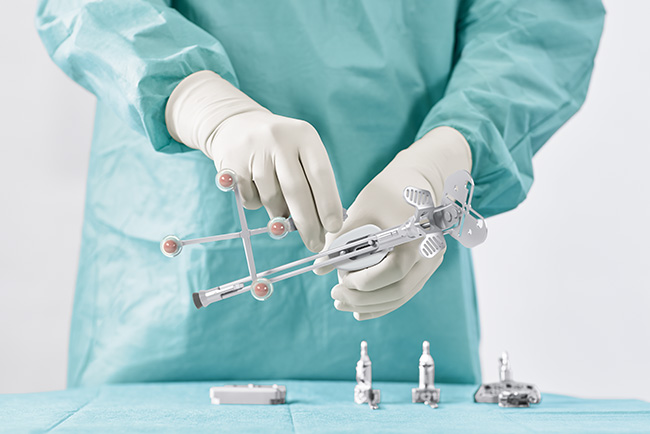 With OrthoPilot® TKR, Aesculap offers a unique and dedicated software for total knee revision, facing exactly the above mentioned problems. First results show that with OrthoPilot® TKR a precise axis alignment as well as good restoration of jointline and rotational orientation of the femoral component can be reached. This also takes into consideration the soft tissue situation by simulation of residual extension and flexion gaps for the best possible stability of the knee. An increased longevity and thus a reduction of the current failure rate in knee revisions is expected.

TKR 3.0 – The new revision navigation software​
3 different Man-Machine-Interfaces.
Everything a surgeon desires: 3 possibilites of software interaction to fully adapt the system to the individual surgeons' preferences. Take over control by either using the brand-new Multitool, gesture recognition or the wireless footswitch.
New workflow option "Planning First".​
Restoration of joint line level.​
Stem orientation under control: Reamer navigation.​
Plan ahead: Femoral cut planning & augmentation planning.​
Interact: The new Multitool.
The Multitool – a new multifunctional instrument that combines 4 instruments in 1 – serves as one possible man-machine-interface to control TKR 3.0. By combining cutting-edge technology with simple, intuitive handling the Multitool allows surgeons to operate flexible, precisely and ergonomically. Due to its' smart click-mechanism the footswitch becomes obsolete.
The entire control is in the palm of your hand.
Monocortical transmitter fixation.
Four different adapter positions and a 180° swing angle of the new monocortical 2-pin transmitter fixation facilitate the tibial transmitter orientation to the stereo-optical camera system and reduce efforts in camera positioning.

Software Elements
For further information please contact your Aesculap representative or mail to
Am Aesculap-Platz
Germany