Total Knee Revision
The first dedicated knee revision software on the market
The failure rate of knee revision implants after 10 years is reported to be 22%. There are various reasons for that, but many times the basic cause is to be found in:
Change of the jointline, especially proximalization 
with resulting Patella baja
Malalignment
Malrotation of the implants
Imbalanced extension and flexion gaps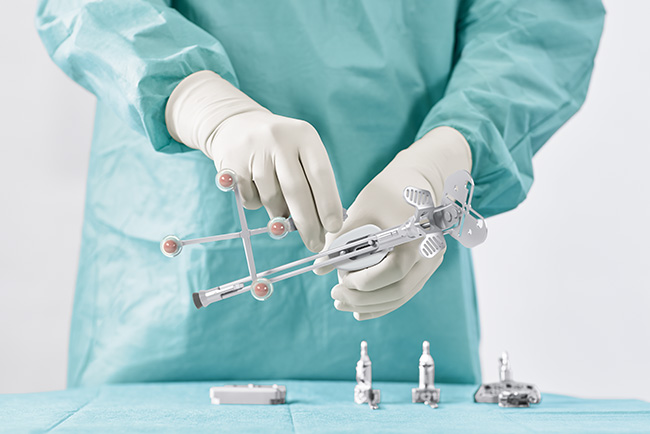 With OrthoPilot® TKR, Aesculap offers for the first time ever a unique and dedicated software for total knee revision, facing exactly the above mentioned problems. First results show that with OrthoPilot® TKR a precise axis alignment as well as good restoration of jointline and rotational orientation of the femoral component can be reached. This also takes into consideration the soft tissue situation by simulation of residual extension and flexion gaps for the best possible stabilty of the knee. An increased longevity and thus a reduction of the current failure rate in knee revisions is expected.

Software Elements
TKR Features
New transmitter fixation for femur and tibia
Integrated jointline-planning for the best possible restoration of the jointline-level 
Adjustment possibility of the planned rotational correction of the femur 
Reamernavigation as an option to prepare stems under navigation control in relation to the mechanical axis and considering the slope 
Well established soft tissue management 
Interactive femoral planning with simulation of implantation result with special regard to aspired jointline, as well as soft tissue situation prior to final preparation of the femur 
Seperate unique augmentation planning in relation to palpated defects 
Increased longevity of the implant and thus a decrease of the re-revision rate is expected 
Precise and reproducible implantation results with improved postoperative joint function, as well as better mobility and stability
For further information please contact your Aesculap representative or mail to
Am Aesculap-Platz
Germany