Unicondylar Knee Arthroplasty
Unicondylar knee endoprosthetics
The navigation opens new, reproducible approaches for the surgical treatment of unicompartmental gonarthrosis. Especially in the reduced visual field common in minimally invasive surgery, this is a valuable, if not indispensable component for achieving the ideal implant position.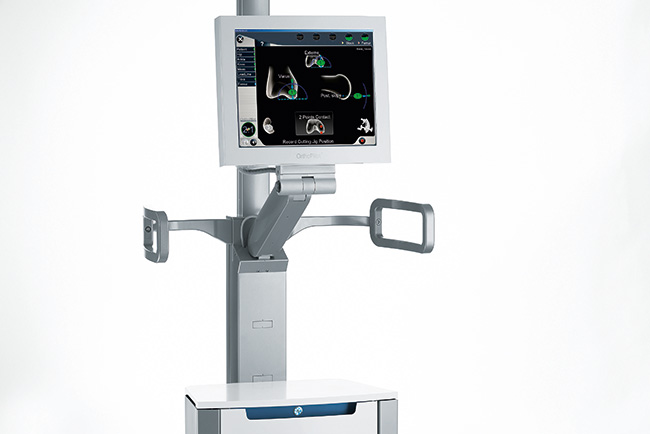 Minimally invasive, but reliable – with OrthoPilot® UKA
The main objective of the minimally invasive unicondylar knee endoprosthetic technique is to increase patient satisfaction and shorten hospital stays whilst reducing postoperative pain and rehabilitation time. univation® is the only sledge prosthesis to be implanted with navigation. OrthoPilot® UKA combines the advantages of unicondylar knee implants with minimal-invasive surgical technique and navigation.
When used together with the ergonomically designed minimally invasive instruments (MIOS®) especially adapted for this purpose, safe and reliable minimally invasive surgery is possible.
OrthoPilot® provides support during tibial resection and when aligning the femoral prosthesis. Via the load axis, it is possible to visualise the degree of axis correction at any time.
Software Elements
UKA Features
Easy registration of kinematic and anatomic axis conditions without x-ray
Continuation of the ergonomic OT workflow from the knee navigation
Precise and reproducible implantation results with OrthoPilot®
Navigated rotational and varus/valgus alignment of the preparation instruments
Optimised contact surface of the components by navigated alignment of the implant components
Navigated insertion of the trial femur and the final femoral implant
Special high-tech instruments adapted to navigation and minimally invasive access
For further information please contact your Aesculap representative or mail to
Am Aesculap-Platz
Germany