QUILLTM
KNOTLESS TISSUE-CLOSURE DEVICE
Choose a category or subcategory
QUILLTM – Versatile Knotless Tissue-Closure Device
Helically aligned barbs
Eliminates knot tying, reducing OR time [1], [2], [3], [4], [5], [6], [7], [8], [9]
Bidirectional design enables two individuals to close at same time [5], [6]
Potentially less time under anaesthesia [2], [4]
Controlled tension and approximation during closure [2], [10] 
The original barbed suture launched in 2007
Used in more than 25 million surgical cases
Studied in more than 80 clinical papers
Complete range of absorbable and non-absorbable materials and configurations including MonodermTM, PDO and Polypropylene
More than 200 SKUs available in sizes 5-0 to 2 [11]
Configuration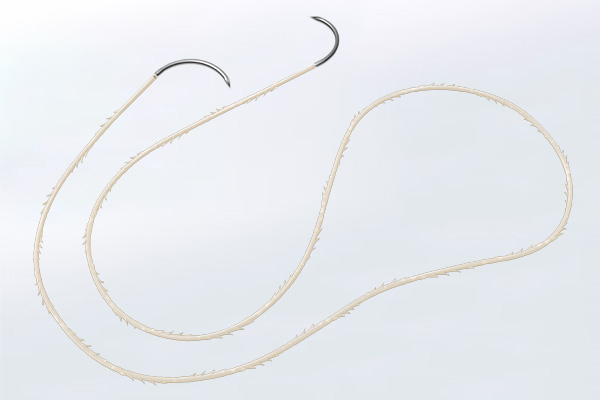 QUILLTM Knotless Tissue-Closure Device
Bidirectional Design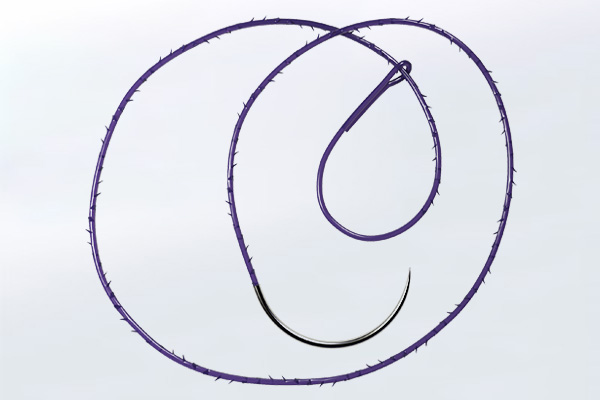 QUILLTM Variable Loop Device
Unidirectional Design
Related Document
Description
Document
Link

Brochure QUILL™

Knotless Tissue-Closure Device

link

open
[1] Mansour A, Ballard R, Garg S, Baulesh D, Erickson M. The Use of Barbed Sutures During Scoliosis Fusion Wound Closure: A Quality Improvement Analysis. Journal of Pediatric. Orthopedics. Volume 33, Number 8, Dec 2013.
[2] Ting N, Moric M, Della Valle C, Levine B. Use of Knotless Suture for Closure of Total Hip and Knee Arthroplasties; A Prospective, Randomized Clinical Trial. J. of Arthroplasty vol 27, no. 10. 2012.
[3] Gililland J, Anderson L, Pelt C, Peters C. Barbed Versus Standard Sutures for Closure in Total Knee Arthroplasty: A Multicenter Prospective Randomized Trial. Journal of Arthroplasty 29 suppl. 2 June, 2014;135-8.
[4] Eickmann T, Quane E. Total Knee Arthroplasty Closure with Barbed Suture. J. of Knee Surgery. 2010;23:163-8.
[5] Stephens S, Politi J, Taylor B. Evaluation of Primary Total Knee Arthroplasty Incision Closure with the Use of Continuous Bidirectional Barbed Suture. Surgical Technology, International XXI, Orthopaedic Surgery. 2011;#338,1-5.
[6] Smith E, Shukla P, Matzkin E. (Tufts Med Center; Brigham & Womens hospital). Barbed Versus Traditional Sutures: Closure Time, Cost, and Wound Related Outcomes in Total Joint Arthroplasty. Journal of Arthroplasty, Spring, 2014.
[7] Gililland J, Anderson L, Sun LG, Erickson J, Peters C. Perioperative Closure-related Complication Rates and Cost Analysis of Barbed Suture for Closure in TKA. CORR. Sept. 28, 2011.
[8] Nett M, Cushner F, Avelar R. Water-Tight Knee Arthrotomy Closure: Comparison of a Novel Single Bidirectional Barbed Self-Retaining Running Suture vs. Conventional Interrupted Sutures. Journal of Knee Surgery. 2011;24:55-60.
[9] Rosen AD. Use of Absorbable Running Barbed Suture and Progressive Tension Technique in Abdominoplasty: a Novel Approach. Plastic and Reconstructive Surgery. March 2010;125(3):1024-7.
[10] Vakil JJ, O'Reilly MP, Sutter EG, Mears SC, Belkoff SM, Khanuja HS. Knee arthrotomy repair with a continuous barbed suture: a biomechanical study. J Arthroplasty. 2011;26(5):710-3.
[11] QUILL™ device Instructions for Use.
For further information please contact your B. Braun representative or mail to
Carretera de Terrassa, 121
Spain