Nutrition tips for cancer patients
7 nutrition tips to overcome loss of appetite
Do you have no interest at all in eating right now? The side effects of anticancer treatment, e.g. chemotherapy, or the tumor can often affect your appetite as well as on your overall well-being. Here are some tricks to overcome a loss of appetite.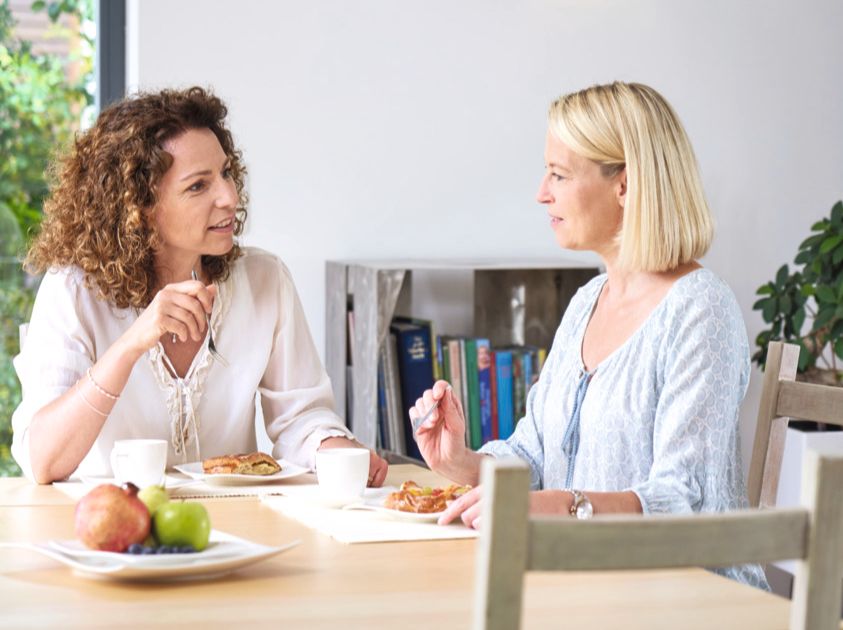 1. Set an alarm and remind yourself to eat
Outsmart yourself by placing snacks throughout your home, ready to eat and tempting. Fill your fridge with delicious items. If you need to be more structured, you can come up with a plan and set an alert to remind you. A two-hour rhythm has been shown to be effective, that is, breakfast at 8:00 AM, first snack at 10:00 AM, second snack at noon, hot meal at 2:00 PM, etc.
2. Make your food look appealing
Try to make food attractive for you again. We know that taste not only comes from your tongue but also from your mind and memories. Have you ever taken a look at a dish with the food very nicely arranged? You feel like you can already taste it just by looking at it. Use this effect. Make your food a feast for the eyes. Take the time for preparation.  
Create a nice atmosphere, such as by decorating your table. Use a tablecloth, light some candles, or maybe listen to some background music?
Food that is beautifully presented with vibrant colors can stimulate your appetite.
3. Avoid cooking odors 
Can't stand the smell of some foods? Take care of all your senses and try to find out what smells are still comfortable for you. You might try eating raw vegetables at first and then gradually get back to cooking your meals as your smell aversions get better. 

For some patients, meal delivery services come in handy as it eliminates the smell of cooking at home. There is a wide variety of meals that can be delivered, so you can create the right variation for you. 
4. Be good to yourself
Prepare fresh, quality food you otherwise may have denied yourself. Fresh herbs stimulate your senses and take you on journeys of culinary discovery.

Fresh herbs can be used as natural appetite stimulants.
5. Eat several small meals through the day
Don't pressure yourself about eating. Small bites also count. Many cancer patients have problems eating three big meals a day. So, don't mind changing your eating habits from three large meals to six to nine small snacks. Adding more but smaller portions to your daily diet may feel much easier to manage.

6. Focus your senses 
Enjoyment requires focus. Give the taste of the food your undivided attention. Looking at the newspaper, the TV, your phone or the computer takes away the opportunity to truly perceive that you're actually eating.

Enjoy the experience by focusing on the texture and flavor of the food.
7. Share mealtimes with your loved ones 
Even when you're not able to eat a lot, you can still share a daily event with them and talk about interesting topics in a relaxed atmosphere. But avoid people and topics that aren't good for you. Make sure that your loved ones know the topics you want to leave out and what you want to talk about instead.