Supporting surgeons
Closure technologies for surgery
B. Braun provides a whole range of specialized suture materials, as well as surgical adhesives, mechanical staplers and endoluminal vacuum therapy. In combination with its smart service solutions, B. Braun helps to streamline workflows and improve efficiency.
Anastomotic leakage treatment
Unique endoluminal vacuum therapy​



This minimally invasive method was especially designed for anastomotic leakage treatment in upper and lower gastrointestinal tract and colorectal area. In the treatment of anastomotic or Hartmann's, stump leakages Endo-SPONGE ® shows a trend to reduce hospital stay, [7], [8], [10] permanent stomas [2], [4], [8], [9] re-operations [3] and cost of anastomotic leakage treatments, [7], [9] with a good patient acceptance. [7], [5], [6], [8]

Discover the benefits of endoluminal vacuum therapy
Surgical mesh fixation
Revolutionary fixing



Histoacryl® LapFix is an atraumatic fixation method reported to be better tolerated by the patient than traditional fixation methods. It reduces the risk of post-operative chronic pain compared to traditional fixation methods. [11-12]
Explore more Histoacryl® LapFix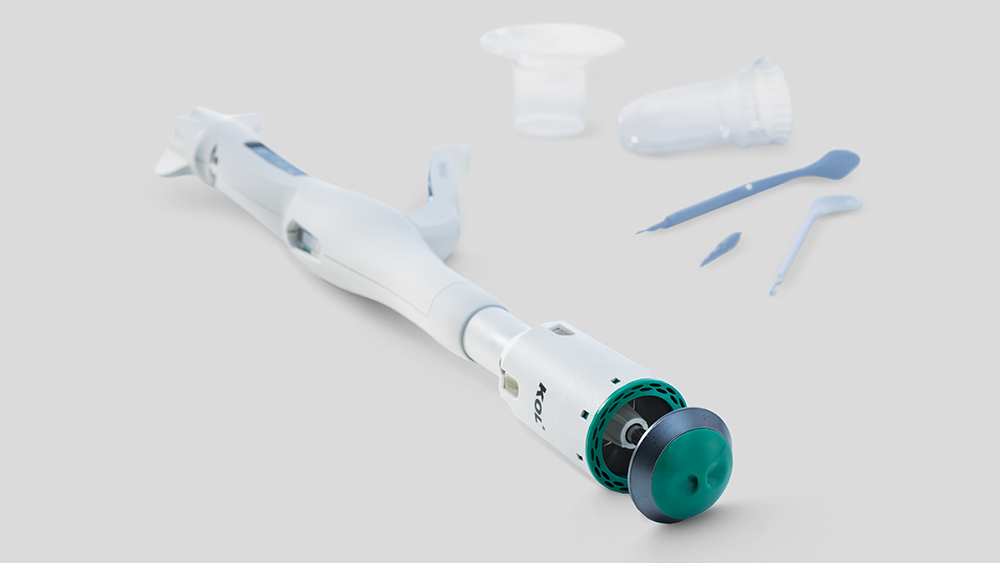 Internal staplers
Real transanal anastomosis
The intraluminal stapler CSC-KOL® is an innovation in low colorectal anastomosis. The technique for a real transanal end-to-end anastomosis reduces the risk of leakages and stenosis. [13-14]

Learn more about CSC-KOL®
[1] In vivo test. Lab No. 3080 (Annex 11).; In vivo test. Lab No 2540 (Annex 12).; Lab No. 01C 01850 00 (Annex 13)
[2] Huisman JF, van Westreenen HL, van der Wouden EJ, Vasen HFA, de Graaf EJR, Doornebosch PG, Tang TJ, Schot I, Brohet RM, de Vos Tot Nederveen Cappel WH, Vermaas M. Effectiveness of endosponge therapy for the management of presacral abscesses following rectal surgery. Tech Coloproctol. 2019 Jun;23(6):551-557.
[3] Weidenhagen R, Gruetzner KU, Wiecken T, Spelsberg F, Jauch KW. Endoscopic vacuum-assisted closure of anastomotic leakage following anterior resection of the rectum: a new method. Surg Endosc. 2008 Aug;22(8):1818-25.
[4] Borstlap WAA, Musters GD, Stassen LPS, van Westreenen HL, Hess D, van Dieren S, Festen S, van der Zaag EJ, Tanis PJ, Bemelman WA. Vacuum-assisted early transanal closure of leaking low colorectal anastomoses: the CLEAN study. Surg Endosc. 2018 Jan;32(1):315-327.
[5] Arezzo A, Verra M, Passera R, Bullano A, Rapetti L, Morino M. Long-term efficacy of endoscopic vacuum therapy for the treatment of colorectal anastomotic leaks. Dig Liver Dis. 2015 Apr;47(4):342-5.
[6] Riss S, Stift A, Meier M, Haiden E, Grünberger T, Bergmann M. Endo-Sponge assisted treatment of anastomotic leakage following colorectal surgery. Colorectal Dis. 2010;12(7):104-8.
[7] Jimenez-Rodriguez RM, Araujo-Miguez A, Sobrino-Rodriguez S, Heller F, Díaz-Pavon JM, Bozada Garcia JM, De la Portilla F. A New Perspective on Vacuum-Assisted Closure for the Treatment of Anastomotic Leak Following Low Anterior Resection for Rectal Cancer, Is It Worthy? Surg Innov. 2018 Aug;25(4):350-356.
[8] Milito G, Lisi G. Endoluminal Vacuum Therapy as treatment for anastomotic colorrectal leakage. Surg Technol Int. 2017 Jan;10(30):125-30
[9] Gardenbroek TJ, Musters GD, Buskens CJ, Ponsioen CY, D'Haens GR, Dijkgraaf MG, Tanis PJ, Bemelman WA. Early reconstruction of the leaking ileal pouch-anal anastomosis: a novel solution to an old problem. Colorectal Dis. 2015 May;17(5):426-32.
[10] Mussetto A, Arena R, Buzzi A, Fuccio L, Dari S, Brancaccio ML, Triossi O. Long-term efficacy of vacuum-assisted therapy (Endo-SPONGE(®)) in large anastomotic leakages following anterior rectal resection. Ann Gastroenterol. 2017;30(6):649-653.
[11] Helbling C, Schlumpf R. Sutureless Lichtenstein: first results of a prospective randomized clinical trial. Hernia. (2003) 7:2 (80-4).
[12] Kim-Fuchs C, Angst E, Vorburger S, Helbling C, Candinas D, Schlumpf R. Prospective randomized trial comparing sutured with sutureless mesh fixation for Lichtenstein hernia repair: long-term results. Hernia. (2012) 16:1 (21-7).
[13] Crafa F, Megevand J, Romano G, Sileri P. New double-stapled anasto-motic technique to avoid crossing staple lines. Tech Coloproctol. 2015 May;19(5):319-20.
[14] Crafa F, Smolarek S, Missori G, Shalaby M, Quaresima S, Noviello A, Cassini D, Ascenzi P, Franceschilli L, Delrio P, Baldazzi G, Giampiero U, Megevand J, Maria Romano G, Sileri P. Transanal Inspection and Management of Low Colorectal Anastomosis Performed With a New Technique: the TICRANT Study. Surg Innov. 2017 Oct;24(5):483-491.