Pediatrics & Neonatology
At eye-level with tiny giants
Caring for Pediatric and Neonatal Patients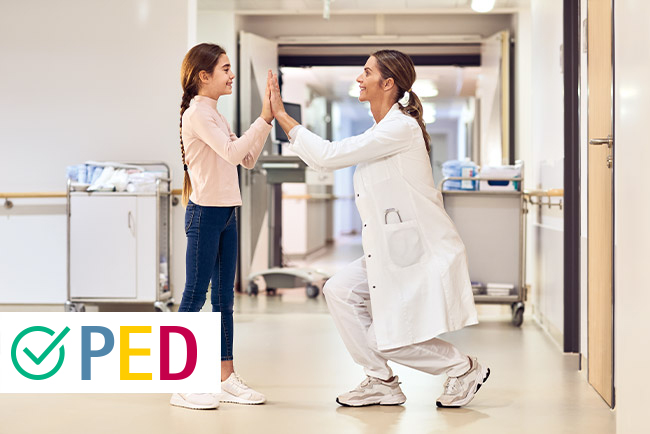 The little ones in your care certainly belong to one of the most challenging patient groups. High risk of errors caused by small and delicate anatomical features, minimum tolerance ranges for and often insufficient scientific evidence regarding drugs, highly sensitive family members, and less patient compliance are only few of the challenges you face every day.
B. Braun is your qualified, experienced and empathetic partner when it comes to pediatric and neonatal patients. We support you with our expertise and reliable solutions that meet the needs of children. Innovative error-preventing technology with the utmost precision. Medical devices that help to improve processes in terms of efficiency and quality of care, featuring safety by system.
Partnering with us helps you to unlock decisive potential in protecting your young pediatric patients in the most advanced and effective manner.
Pediatrics & Neonatology: Information and Products
We provide important information for pediatricians and pediatric nurses as well as for health care professionals in neonatology. Read more about risk prevention in the field of pediatrics and neonatology.
Risk Prevention in Pediatrics & Neonatology
Patient Story – Pediatric Intravenous Anesthesia 
Get in contact
B. Braun Melsungen AG
Carl-Braun-Str. 1
Germany
References
1 Ho AM.  Is Emergency Thoracotomy Always The Most Appropriate Immediate Intervention for Systemic Air Embolism After Lung Trauma? Chest. 1999;116(1):234-7.
2 Riemann T. How many "milliliters" of air will lead to air embolism? Die Schwester Der Pfleger 2004;8:594-5.
3 Wu A. Minimizing Medication Errors In Pediatric Patients. US Pharm. 2018;44(4):20-23. https://www.uspharmacist.com/article/minimizing-medication-errors-in-pediatric-patients (6.1.20).
4 Leal K, Ramon L, Rand M, Mafra Verissimo L. Potential intravenous drug incompatibilities in a pediatric unit. Einstein (São Paulo) 2016;14(2):185-9.
5 Mir AN, Geer MI. Off-label use of medicines in children. IJPSR. 2016;7(5):1820-8.
6 Allen HC, Garbe MC, Lees J, Aziz N, Chaaban H, Miller JL, et al. Off-Label Medication use in Children, More Common than We Think: A Systematic Review of the Literature. J Okla State Med Assoc. 2018;111(8):776-83.
7 Boehne M, Jack T, Köditz H, Seidemann K, Schmidt F, Abura M, Bertram H, Sasse M. In-line filtration minimizes organ dysfunction: new aspects from a prospective, randomized, controlled trial. BMC Pediatr. 2013;13:21.