Efficient treatment and therapy systems 
Hemodialysis for patients with chronic kidney disease
Hemodialysis is an extracorporeal blood purification technique used for patients with chronic kidney disease who are not able to receive a kidney transplant.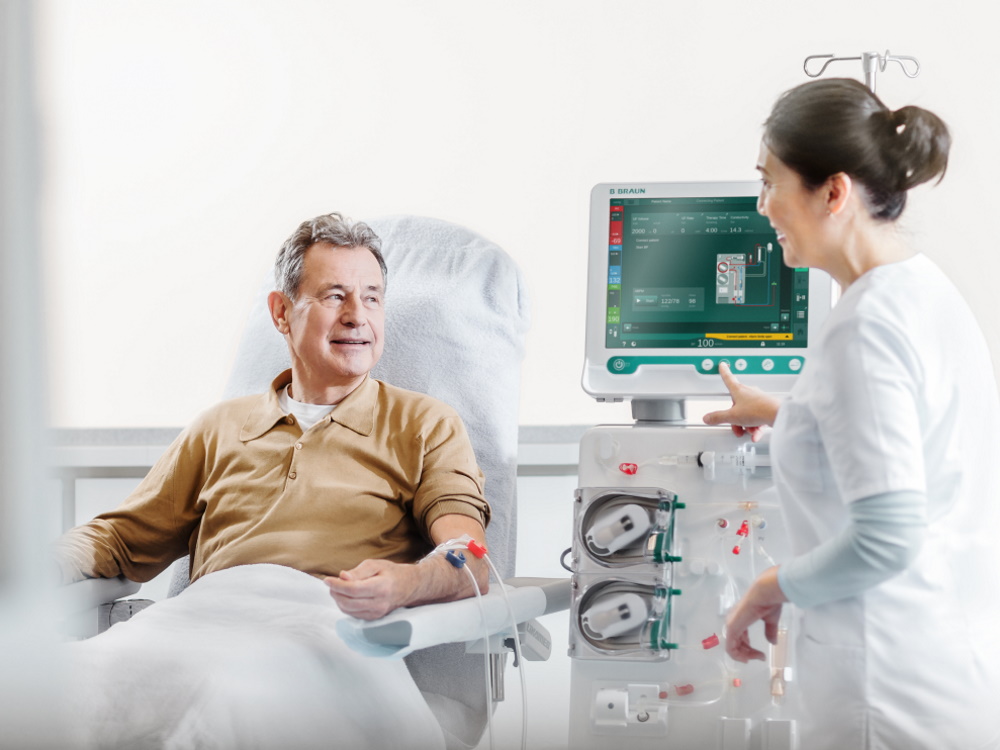 About 10 to 13 percent of the world population is affected by chronic kidney disease ranging from Stage CKD 1 up to Stage CKD 5.
Stage CKD 5 is defined as kidney failure or end-stage-renal-disease (ESRD) and requires renal replacement therapy (RRT). About 0.1 percent of the worldwide population are affected by ESRD.
Hemodialysis is a modality of RRT and is used for ESRD as well as for acute kidney injury (AKI).

Hemodialysis is the most widely used form of renal replacement therapy for ESRD. 

Our comprehensive products for hemodialysis therapy
Reliable products and efficiency-enhancing services
Customer specific support and maintenance management
Medical devices are an important part of every dialysis facility's assets. It is important that these serve our common goal to achieve well-tolerable treatments with our trust-worthy devices.
B. Braun's highly qualified experts can help you by meeting the local country requirements with demand-oriented maintenance, individual service, and reliable spare parts supply.
Our services
B. Braun's comprehensive service range includes customer-specific support and maintenance management, which ensures continual technical support for medical equipment and guarantees the greatest possible degree of utilization. The needs-based services are variable and can be contracted in different packages to meet your facility's specific needs.