Introduction
St. Marienstift Magdeburg GmbH is a basic care hospital situated in the heart of the state capital of Saxony-Anhalt and surrounded by beautiful parks.
As a Catholic hospital, it is part of the tradition-rich Magdeburg institutions. It was initially founded in 1906 to provide care for pre-school children of working parents, orphans and elderly and infirm people, and was first used as a hospital in 1909.
Today more than 14,000 patients are treated at St. Marienstift in Magdeburg. Currently, 260 employees look after the patients' welfare every day at the 170-bed hospital.
The modern hospital has clinics for gynecology and obstetrics, anesthesia, pain and intensive therapy, gastroenterology, surgery and urology as well as inpatient wards for ophthalmology, hand surgery, orthopedics and urology. In addition, outpatient operations are carried out by practicing physicians at St. Marienstift.
An individual solution for every patient
The surgical clinic is one of the main departments at the St. Marienstift hospital and was founded in 2006. Today, the surgical clinic carries out all standard surgical and visceral operations in modern operating theaters. Depending on the individual circumstances, both open surgery and laparoscopic/minimally invasive procedures are used.
Minimally invasive surgery, which today is the be all and end all for many operations, does not just save patients from large scars. The so-called keyhole surgery technique also shortens the healing phase and the patients feel fit and healthy again quicker. In addition to capability and medical experience, every laparoscopic operation requires maximum concentration and precision from the surgeon.
Now also in 3D
Quicker, faster, better, further: If optimal performance is being striven for in medicine, it always comes down to optimizing diagnostics and therapy for patients. In the last few years, the new 3D video operation tower from Aesculap has enabled surgeons at St. Marienstift to see three-dimensional images in real time during minimally invasive surgery. Surgical instruments and a minuscule camera can be moved right to the site of the operation through openings that are just a few centimeters wide.
Dr. Bernd Heinzmann, Senior Physician at the Surgical Clinic of St. Marienstift hospital: "Unlike when we make a large incision, with MIS (minimally invasive surgery), we can only see our actions on a screen". "Since the start of July 2014", says Heinzmann, "we have been able to see three-dimensional images of the abdomen thanks to the new tower and the special glasses." This is vital for precise and safe operations.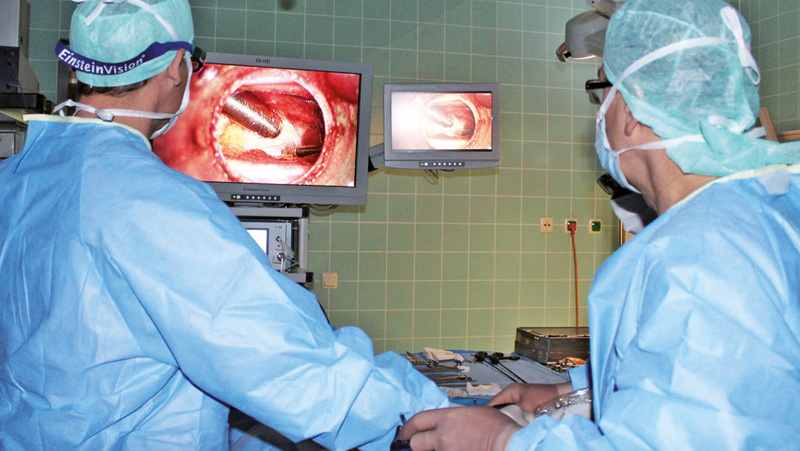 The urologist Dr. med. Michael Ludwig (left) and Dr. med. Bernd Heinzmann (right) with the special glasses for 3D vision – together at the operating table.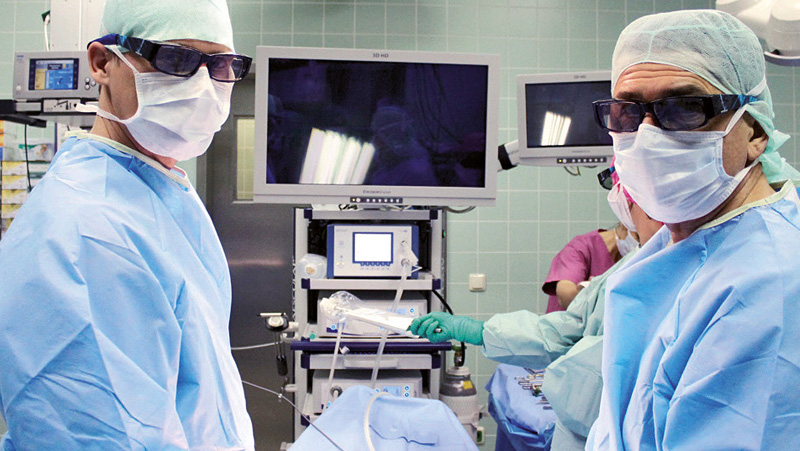 It is an invaluable advantage during complicated surgery. Right from the first operation using 3D images in real-time it was clear that the investment paid for itself. There were two senior physicians at the "table": in addition to the senior physician Dr. med. Bernd Heinzmann, senior urologist Dr. Michael Ludwig was also there. "An inguinal hernia", the two experts explain. Not really a difficult operation, but numerous previous urology operations have resulted in considerable scarring in the internal part of the abdomen, so even access to the actual operating site poses a real challenge.
While a normal viewer sees two-dimensional images on the screen, special glasses enable spatial perception in 3D. The difference is huge. Instead of a flat image, the third dimension provides depth to the image – just as if all the operating region was open.
But that is certainly not the case. Thanks to the minuscule openings in and around the navel, the operation is more or less free of blood. "With two-dimensional images, we have to compensate for the lack of a third dimension using a lot of experience. It is very arduous and tiring to be always just imagining the third dimension", according to Heinzmann. The three dimensional depth perspective allows us to work quicker, more easily and, at the same time, more precisely.
3D technology live from the operating theater
Before setting-up the 3D technology at the St. Marienstift hospital, senior physicians and specialists obtained theoretical and practical qualifications. Now they are able to pass on their knowledge to others. And the senior surgeon is convinced that modern techniques can not just optimize operations but can, at the same time, also make it easier for younger colleagues to learn their craft. "This is state of the art technology for a small clinic like ours. And we are one of only a few hospitals that provide this new technology for patients."
Daniela Kühne had already been operated on 20 times since a Caesarean section 22 years ago. Time and again she suffered painful adhesions in her abdomen. Only a few weeks ago she was taken to hospital in Magdeburg in an ambulance. "A big bump had appeared externally.
I had never known pain like it before. And even the emergency physician feared the worst", recounts the 42-year-old only a few hours after the operation at the Marienstift hospital. "I wanted to be operated on here immediately."
"Of course, I was pleased about it, but on the other hand I knew that the repeat operation would be very complicated due to the scarring from the numerous previous operations."
"The combination of the best possible technology, in this case with 3D technology, and experienced surgeons is necessary for an optimal operation outcome," according to Heinzmann, the senior physician. "Everything turned out well." Ms Kühne, from Glindeberg, was able to leave the hospital only two days after her operation. "I was back at work after 14 days at most," she says confidently.
Conclusion
Senior Physician Heinzmann, who has taught advanced training courses throughout Germany for medical colleagues for many years, wants to expand the content of his courses to include a practical instruction on 3D technology. "Using video conferencing, we can broadcast these operations from the Marienstift "up close" to almost any location and therefore broaden the training of our medical colleagues using live operations." This will make comprehension much easier.