Diagnosis Crohn's disease
Pierre-Louis' normal life as a teenager came to an abrupt end when he was 16 years old. He had developed constant diarrhea, abdominal pain, digestive problems and sometimes blood in his stool. After several visits to the doctor and numerous gastrointestinal examinations, the diagnosis was clear: Crohn's disease.
"This condition made it difficult to develop and go to school like everybody else, especially since this disease comes in flare-ups. You can be fine for several months, then suddenly being unable to venture too far from the toilet for three weeks. I took medication to manage the disease, but still had crises that made me tired and forced me to watch my diet carefully. When my friends for instance suggested that we go to a restaurant, I didn't dare tell them that I couldn't because I was sick."
It took some time before Pierre-Louis finally accepted his illness.
"The first step in accepting the disease is to make friends with your body. And that is sometimes difficult. Even if people have the same disease, everyone lives with it differently; it also depends on how severe each particular case is. But the most important thing is: Don't be afraid to talk about it, to consult patient associations, turn to friends ... And then you realize that people are sympathetic, they mean well, and negative reactions are rare."
Stepping outside your comfort zone, despite a disability
Pierre-Louis, who has been passionate about sailing since he was 7 years old, always saw himself going into the French Navy ... but Crohn's threw a spanner in the works and his childhood dream was suddenly put on hold.

"I wanted to sail and make the sea my profession in the navy, but it was no longer possible due to my diagnosis. That's when I realized that I would have to fight my way through and learn to live with my disability."
He didn't give up. With courage and tenacity, he managed to turn his life around and started a somewhat crazy project which combines offshore sailing, raising awareness among the general public, and encouraging other people with Crohn's to overcome their fears and challenge themselves: 'Vogue avec un Crohn'(1). 
Setting sail with Crohn's
Pierre-Louis founded 'Vogue avec un Crohn' in January 2017. This large-scale project uses the medium of major sailing events to inform people about Crohn's disease and ulcerative colitis, both of which are inflammatory bowel diseases (IBD). His message is clear: "Even with a chronic disease, a lot of things are possible! It is necessary to show some fighting spirit to cope with life's challenges and live well." By participating in the international championship Solitaire Le Figaro in August/September 2018, a ten-day sailing tour, he fulfilled his first childhood dream.
"If I hadn't been sick, I might never have found the courage to fulfill my dreams. The project 'Vogue avec un Crohn' gradually took shape in my mind. During the first years of my illness, I didn't talk about it at all. You end up self-isolating and withdrawing into yourself. So from one day to the next, I decided to stop hiding, to stop being ashamed of my illness. I went from one extreme to another, from saying nothing about my disease to raising the voice for all patients with IBD through 'Vogue avec un Crohn'."
Diagnosis temporary stoma
Only one month after this challenge, Pierre-Louis had to undergo emergency surgery. His colon, which had been battered by Crohn's disease for years, just perforated. The only solution was to create a temporary ileostomy to give his colon time to heal.
"The first thing that changed was how I perceived my disease. With the stoma, this invisible Crohn became visible. I felt that suddenly everybody could see that I was sick."
He stayed in hospital for two weeks, and then he decided that the ostomy would not stop him from doing what he had planned. Several weeks of rehabilitation and rebuilding his body followed. He learned to live with his stoma bag and quickly became independent.
Experiencing great things even with a stoma
Six months later, when his surgeon announced that Pierre-Louis' stoma could be permanently reversed, he preferred to postpone this surgery because the appointment in Mai 2019 collided with the Normandy Channel Race. So instead he set sail together with his friend and co-skipper – and his stoma! For one week, the two sailors lived on board in spartan conditions: surrounded by the cold, humidity and waves and without showering. 

"I think this was my greatest challenge ever; it wasn't the longest or the most difficult tour, but I'm proud that I made it through, even with an ostomy."
The trick is being well-prepared
So Pierre-Louis enjoys life to the max and is full of ideas for new projects. "After crossing the Atlantic with a friend in the double-handed sailing race, Transat Jacques Vabre, in October 2019, my next goal is to become the first sailor with a chronic disease to cross the Atlantic alone! I plan to participate in the transatlantic single-handed yacht race Route du Rhum in 2022." Such an endeavor requires immense discipline, regular medical monitoring and special equipment on the boat.

In fact, every race needs a great deal of physical and mental preparation in advance. Pierre-Louis follows a special diet and does everything necessary to keep himself healthy. Additionally, he swears by yoga, which helps him deal with the stress factors during the races, because stress can provoke a new Crohn's disease crisis. Regular checkups and consultations with his doctor and gastroenterologist ensure adequate treatment. This is especially important for the days and weeks during his ocean races when he is alone. 
"All this allows me to face the challenges the ocean puts before me with confidence and prove that, despite my disease, that everything is possible with good preparation."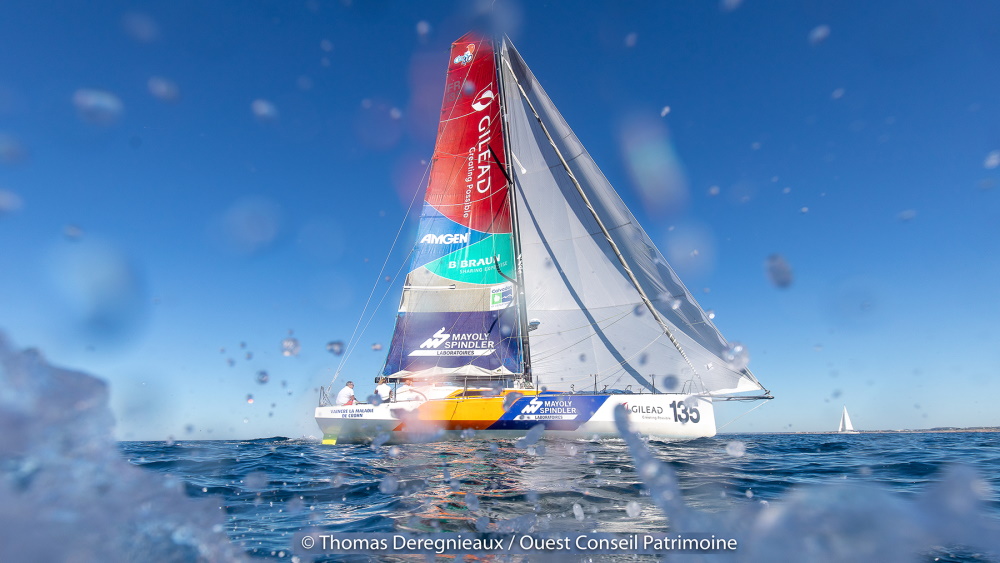 In November 2022, Pierre-Louis successfully took part in the single-handed yacht race Route du Rhum and is therefore the first sailor with a chronic disease to cross the Atlantic alone!
1) The name 'Vogue avec un Crohn' is a French play on words: en vogue (fr) means in fashion; and voguer (fr) means to sail. So literally you 'sail fashionably with Crohn's'.